10 teams…Big 12…huh? Regardless of the number, this is a division that is loaded at the top (3 national title contenders) and then seems to have a bit of a drop off. Nonetheless, there are some solid teams in the middle of the pack with only one or two teams you can really write off. I'll see who is where in the conference and give a summary on how they are performing, as we are now more than halfway through the college basketball season.
Kansas Jayhawks: The Jayhawks have an all around solid team that is led by a frontrunner for national player of the year, Thomas Robinson. Robinson has been an absolute terror for opposing teams, averaging 17.8 points, 12.3 rebounds, and over a steal and a block per game, and making everyone forget about the Morris twins. He's also shooting .544 from the field, showing his efficiency. Kansas has also received big contributions from Tyshawn Taylor, Travis Releford, Elijah Johnson, and Jeff Whitey. Having a starting five that talented has propelled the Jayhawks to the top of the Big 12 with wins over Georgetown, Ohio St., Kansas St., and Baylor. It's no secret that Kansas is dominant at home, so a couple road losses could be in their future, especially at Baylor. I still think they'll finish behind Baylor, but they are a top-ten team and a national title contender.
Baylor Bears: The green and yellow Baylor Bears boast something that not many other teams do: they have five players averaging double figures. Led by super sophomore and future lottery pick Perry Jones, the Bears have had one of the best seasons in school history and only lost recently at the Allen Fieldhouse to Kansas, never an easy place to play. They follow up that game with a matchup against Missouri, so it will be interesting to see how they play after a loss. Baylor has had talent for the past few years, but this season they seem to be playing with more discipline. Pierre Jackson has developed into the glue guy for this team and has really helped out the freshmen get going this season. Quincy the freshman (Miller) is teaming well with Quincy the senior (Acy) to provide one of the best frontcourts in the country. Once freshman Deuce Bello gets going, the team will truly be unstoppable. Baylor should win the Big 12 and cruise to a number one seed, as they have emerged as one of the favorites to win March Madness.
Missouri Tigers: Marcus Denmon and Kim English have paced the up-tempo Tigers, as expected, but where they have really received important contributions is in two players who don't play as many minutes, Ricardo Ratliffe and Michael Dixon. Ratliffe has been a presence on the boards and is shooting an unheard of .771 from the field. Both players have helped Missouri to a 17-1 start this season and an unblemished record at home. The team still has to play Baylor and Kansas twice, which will show just how good Missouri is. The Tigers have channeled their fast pace style into success, and are always a treat to watch. It will be fun to see if they can ride this wave deep through March.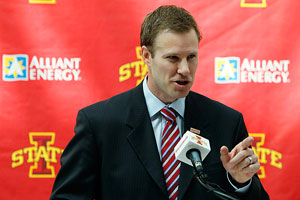 Iowa St. Cyclones: A popular sleeper pick, Iowa St. has moved its way out of the basement of the Big 12. Coach Fred Hoiberg has turned them into a quality team, as they have defeated mostly everyone in their path. They have played Kansas, Missouri, and Michigan close. It's clear that the reason they have had so much success is because of their star player, Royce White, who leads the team in scoring, rebounds, and assists. White is 250 pounds of muscle on the boards and that is evident in his six double doubles this year. With so much of the Big 12 schedule still left to play, a lot remains to be seen, but the Cyclones have already proven that they have what it takes to be a tournament team. If they string together some more wins and upset one of the teams mentioned above, they should find themselves playing in March.
Kansas St. Wildcats: Losing Jacob Pullen was a big blow, but the Wildcats have pulled it together this year and really succeeded in nonconference play. Then, they came into the Big 12, beat Missouri, and only lost to Baylor by two. Rodney McGruder has taken over the role of lead dog as his gives Kansas St. a scoring guard who is also big enough to grabs rebounds. Jamar Samuels and Will Spralding have also given McGruder help, both scoring and rebounding. This Kansas St. team is well rounded, and a team coached by Frank Martin will always be disciplined. The Wildcats have upset potential as they were ranked earlier this season and have shown that they can hang with elite teams.
Oklahoma Sooners: As I predicted, the Sooners have slowed down a bit in Big 12 play. They have only two wins so far, one coming from lowly Texas Tech. However, with a win over Kansas St. and a one point loss to Cincinnati, Oklahoma has shown that they can compete. Steven Pledger continues to be a monster, averaging 17.3 points per game. He has received help from Andrew Fitzgerald, Romero Osby, and Calvin Newell Jr. Oklahoma has been a top rebounding team, but they shoot a low percentage (.436). They'll need to improve their shooting if they want to finish in the top half of the Big 12.
Texas Longhorns: The Longhorns were expected to lose a step after losing nearly all of their key contributors from last season, but they have carried on with J'Covan Brown running the show. Brown has averaged 19.2 points, 3.4 rebounds, and 3.8 assists and has turned into the player everyone thought he could be. Myck Kabongo has also been solid as a freshman point guard, never an easy thing to be. So far, Texas has beaten the teams it's supposed to beat and lost to the teams is wasn't supposed beat. They'll have to step up their game if they want to make the tournament, but good coaching is something that could propel the Longhorns to a winning streak.
Oklahoma St. Cowboys: After a lot of preseason hype, the Cowboys sit at .500. The biggest disappointment so far has been freshman LeBryan Nash. Nash was supposed to come in and help Keiton Page lead the backcourt, but he hasn't done much, shooting 38%. While they haven't really had a terrible loss, they haven't beaten anyone of note, and have been blown away by some of the better teams in the country. Nash may need a little more time to learn, so it appears that this season for Oklahoma St. most likely won't lead to a postseason berth. They have to improve on they glass if they hope to salvage any kind of strong finish for the season.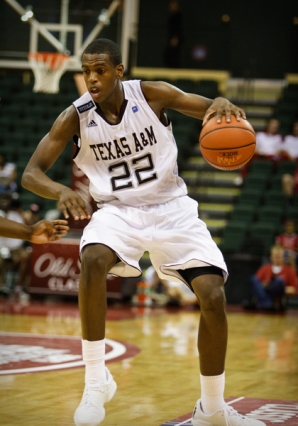 Texas A&M Aggies: What was supposed to be a promising season for the Aggies is spiraling out of control. Khris Middleton, a player who expected to be one of the best in the nation, may still be playing hurt. His numbers are down from last year and Texas A&M has been 3-6 in games he has played in his return from injury. Middleton is a solid player, as is the rest of the Aggie team, so don't be surprised if they pull off some upsets here and there and finish strong. However, as a Seton Hall fan, this reminds me of last year when Jeremy Hazell returned from injury last year and the team still struggled. Middleton will have the ability to return next year for his senior season.
Texas Tech: Jordan Tolbert has been the only bright spot for a team that is 0-5 in conference play. In their defense, the Red Raiders weren't expected to do much this season, but it has been very ugly. They are one of the nation's worst teams in scoring and rebounding. They have lost to a ton of bad teams and have yet to beat anyone of note. Red Raider fans may not want to watch the rest of the season because there are not many wins in their future.
Here is the projected finish for the Big 12
Baylor
Kansas
Missouri
Kansas St.
Iowa St.
Texas
Texas A&M
Oklahoma
Oklahoma St.
Texas Tech