Now I move on to a division that has been dominated by Duke and North Carolina: the Atlantic Coast Conference. There are some new faces succeeding this year, most notably Virginia. It seems that although they are once again elite, both Duke and North Carolina have their flaws and may not run away with the division like they normally do. Let's run down the list and see how the ACC has panned out so far.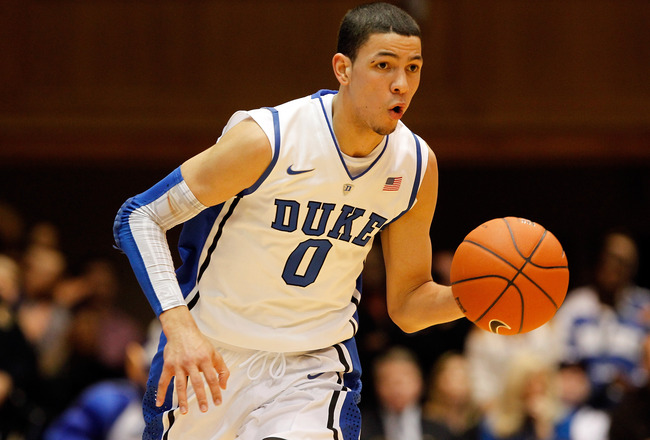 Duke Blue Devils: One of the top scoring teams in the nation, Duke is on a tear despite losing Kyrie Irving and Nolan Smith. As usual, they are dominant at home (undefeated so far), and Coach K has them playing at a very high level. Despite his inconsistent play, Austin Rivers is still leading the team at 14.2 points per game and is its most explosive player. Rivers is a special talent that will only get better as the season goes on. The most amazing part about the Blue Devils' success is their shooting. Duke, always know to live and die by the three, have four players who specialize in launching from behind the arc in Rivers, Ryan Kelly, Seth Curry, and Andre Dawkins. Despite the fact that they shoot so many threes, they still have a .498 field goal percentage as a team, good for sixth in the nation. Mason Plumlee has been a terror on the boards and gives the team the balance it needs. Duke has a nice mix of young players and veterans, and if they stay hot shooting, they will have a long postseason run.
North Carolina Tar Heels: You would think that a 16-3 record would be good for a team, but for these Tar Heels, it is a huge disappointment. The loss to UNLV was a bit strange and everyone can look past a last second one-point loss on the road to Kentucky, but losing to Florida St. by 33? That is a concern. Still, the Tar Heels are an incredibly talented and deep team who still look to be one of the best in the country. North Carolina leads the country in both scoring and rebounding. Their trio of top players, Harrison Barnes, John Henson, and Tyler Zeller, has been fantastic, but there is a drop off after that. Kendall Marshall does a good job at being the floor general, but other players need to step up in order for UNC to really get a national title. Reggie Bullock, Dexter Strickland, James McAdoo, and P. J. Hairston all have that potential and could break out for the Tar Heels come tournament time. North Carolina still has yet to play many tough games, so it will be interesting to see how they fair against Duke. Ultimately, I think they will finish the season nearly flawless and capture an NCAA title.
N. C. State Wolfpack: 12.9, 12.9, 12.7, 12.2, and 12.1. Those are the points per game averages for the top five scorers on N. C. State. Talk about balanced. Scott Wood, C. J. Leslie, Lorenzo Brown, Richard Howell, and C. J. Williams are all solid contributors to a Wolfpack team that is having a surprising amount of success. Three of their five losses have come to teams that were ranked at some point this season, one of them being to #1 Syracuse. While they have yet to really get a quality win, their success is still remarkable, and they will have that opportunity because they still play Duke, Virginia, and North Carolina twice. I still think they're not quite at the point of being a contender, but they should remain competitive in the ACC and make a run at a tournament spot.
Florida St. Seminoles: As usual, the 'Noles are making noise in the ACC because of head coach Leonard Hamilton's defensive philosophy. As I mentioned above, they crushed North Carolina and held them to only 57 points. Florida St. has played a tough schedule so far and should be happy with its 12-6 record. In the absence of Chris Singleton, other players have stepped up. Bernard James has been a beast, averaging 10.4 points and 8.9 rebounds. Michael Snaer and Ian Miller have both increased their play big time, averaging 13.5 and 13 points per game respectively. Florida St. is always a tough team to beat, as last year's Sweet Sixteen run showed everyone, so don't be surprised if they continue upsetting teams in the ACC. The best is still yet to come for this Seminoles, as they should string together a 20-win season.
Virginia Cavaliers: Virginia was a popular sleeper team this season, but with only two losses, one a three-point loss to Duke on the road, they are surpassing everyone's expectations. The Cavaliers are playing out of their minds right now. Mike Scott is making a case for ACC player of the year with 16.9 and 8.8 rebounds per game. Virginia has beaten nearly all comers, with their most notable win coming over Michigan. Joe Harris has also done a good job at being Scott's sidekick. Virginia has proven it is here to stay as a top-25 team in the country, but it still remains to be seen how good they can be. The rest of the season, the ACC tournament, and the NCAA tournament will give us a good outlook at their ceiling.
Maryland Terrapins: Maryland has had a nice season so far, even without having Jordan Williams. Terrell Stoglin has been the man for the Terrapins, averaging 21.2 points per game. They benefited early from an easy nonconference schedule, but are only 2-2 in the ACC. While they have yet to win an actual road game, they've been pretty good at home. A lot of judging for Maryland will have to come from how they do in the rest of ACC play. With the way this team looks, they seem like they have upset potential. Stoglin has shown his ability to take over games, so the Terps are dangerous, but their upside is limited until they receive some stronger play from the rest of the team.
Boston College Eagles: If you're confused as to why the Eagles are this high in the standings, it's because of they're conference record. They've gotten blown out several times this season by very weak teams. With only seven wins and no one scoring in double figures, the season looks bleak for Boston College. They have the ability to contend with weaker teams at home. But against a top team on the road? Forget it. With no quality wins, this team is going nowhere fast. Boston College should drop to the bottom of the standings in the next few weeks.
Miami (FL) Hurricanes: Miami has had an interesting season. Expected to be one of the better teams in the ACC, they have yet to really pick up a quality win. Malcolm Grant and Durand Scott, both players expected to lead the team, have had a drop-off from last season. Transfer Kenny Kadji has been a nice surprise, averaging 11.4 points and 5.1 rebounds. However, the Hurricanes need to step up their play if they want to make it to the tournament. They haven't been bad so far, but their best win is against Rutgers. Opportunities await them in the ACC schedule, they'll just have to make the most of them.
Wake Forest Demon Deacons: Things aren't looking good for Wake Forest, as they have dropped three straight games. Their only conference win is to Virginia Tech at home. While they do have two very good players in C. J. Harris (17.4 points, 3.4 rebounds) and Travis McKie (17 points, 6.6 rebounds), they just haven't been able to put it all together. Losses to Wofford and Arizona St. do not help their resume that boasts its best win against Nebraska. The Demon Deacons look like the kind of team that wont finish very high in the conference. However, with Harris and McKie, they could do better than many expect.
Clemson Tigers: With a bunching of guys returning, Clemson was thought to be able to make an impact in the ACC, but has yet to do so. Andre Young, Tanner Smith, and Devin Booker have all made improvements from when they were on last year's tournament squad, so there is still some hope, but their current body of work is ugly. Losses to Boston College, UTEP, and South Carolina are not helping their case. They could finish strong down the stretch, but you might want to write this season off for the Tigers.
Georgia Tech Yellow Jackets: The Yellow Jackets have lost six of their last seven games, four of those losses coming at home. Georgia Tech has been a team that has recently relied on one player to do most of the work (Iman Shumpert last year, Derrick Favors the year before), but Glen Rice Jr. just isn't cutting it this year. He averages 13.3 points and 6.4 rebounds for a relatively weak team that only averages 63.2 points a game. After getting drubbed by Virginia, it doesn't seem like these guys are playing with any heart. The season could get a lot worse than it is right now.
Virginia Tech Hokies: We end the conference with the struggling Hokies who are 0-4 in conference play. After only losing to Syracuse, Minnesota, and Kansas St. in nonconference play, they are still looking for their first ACC win. It hasn't been too easy so far, but they have lost close games to Wake Forest and Boston College. Erick Green has been the top Hokie, averaging 16.1 points per game. For a team that has really wanted to make the tournament this season,they must play better. They should escape from the basement of the conference, but a tournament berth is too far out of reach.
Here are my projected standings for the end of the ACC season. There are four ACC games on today, Maryland vs. Temple, Wake Forest vs. Boston College, Florida St. vs. Duke, and Georgia Tech vs. Clemson. My predictions for those are Temple, Wake Forest, Duke, and Clemson. Thanks for reading, and check back in a couple of days as I continue my midseason reports.
North Carolina
Duke
Virginia
Florida St.
N. C. State
Miami (FL)
Wake Forest
Clemson
Maryland
Virginia Tech
Boston College
Georgia Tech